COMPARE OUR RATES TO THE BANKS
UP TO 5X CHEAPER THAN MAJOR CANADIAN BANKS
Get a Quote
Call us toll-free and our customer service team will take your order, confirm your rate and finalize the conversion.
Get Started Today
Register quickly to start exchanging. You must have an account with CBCE before we can process a transaction. This is because we are a Federally-regulated industry, and have to verify your identity.
Accredited and Credible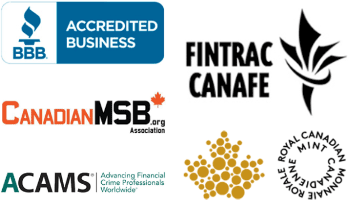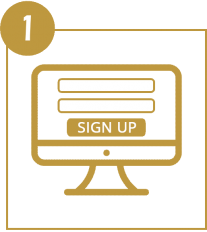 Register on our website and get yourself multiple quotations for free. Verify today's rates instantly online.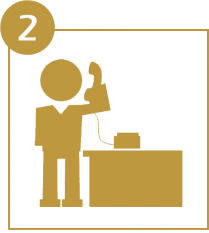 Receive a receipt with all of your details, verify, send funds online or via bank transfer, and receive the converted amount the same/next day.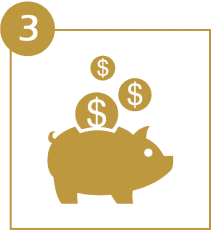 Celebrate your savings of up to 2% more than the banks. Save thousands with CanAm Currency Exchange
All of our services are regularly regulated and are insured to cover losses in any unforeseen circumstances.
We ensure the fastest funds delivery throughout the country.
We offer the lowest rates in currency exchange, and work in complete synchronization with banks to ensure that you get the best rates.
We ensure that you have a confirmation receipt with you, and then you send us the funds.
From registration to transfer of funds, its all just a matter of minutes.
Our clients make all the difference, and we ensure to keep their satisfaction as our priority.
CanAm Currency Exchange in Brantford
(519-915-5151)
If you're someone who's new to foreign exchange, you should know that banks are not the only option you have. You may need to have your current currency converted to a different currency if you are travelling or sending money to a different country, or vice-versa. CanAm offers you the best rates throughout Brantford, especially if you are looking to get your US dollars converted. You will be able to get the same services at your nearest bank, however, banks tend to share limited information and keep the important information to themselves, for example: the hidden service charges. This is why majority of the people end up receiving a lower amount in exchange of their foreign currency.
Where In Brantford, ON Can I Exchange My Currency?
If you're in Brantford, there are a lot of options from where you can get your currency exchanged. You can either choose to go for independent brokers, banks, or currency exchange franchises. However, it is important to remember that each option has its own benefits and drawbacks, so it will be wise to choose an option after completing careful research.  It is common for banks to offer a secure transaction, but the rates offered are off the charts. There are a lot of hidden fee's that the banks charge so they are not able to offer the best currency rate. Independent brokers tend to offer you a very competitive exchange rate for changing your US dollars, but they not the safest option. If you visit an exchange franchise, you can get both a safe exchange and the best possible rates for your currency, which is where CanAm comes into play to offer you exactly what you are looking for.
Currency exchange at Brantford's Airport:
It is common for people to feel the need of a last-minute currency exchange. Catching a plane can be quite worrisome and cause a person to be forgetful of certain tasks. You can easily find an exchange counter present at the airport in order to facilitate you with your exchange needs. Unfortunately, this pattern has become a case study for the brokers who tend to take advantage of your situation and offer you low exchange rates against your currency. We at CanAm highly recommend that you convert & carry converted currency with you when you leave for the airport. Doing so, you'll save a ton!
Currency exchange at Brantford Hotels or high tourist attraction areas:
Hotels, being a common accommodation amongst tourists, is a location where you can find exchange counters offering you to convert your currency on-site. Since these are external counters placed at a hotel or any other place of high foot traffic like malls, there is a rental fee that these counters have to pay in order to have the permission to set up their kiosks. This causes their exchange rates to go down and you may not be able to get the best return for your dollars. You might also come across individual brokers trying to seal a deal with you. Its best to check for a proof for validation to make sure they don't pull you into something illegal or they wont run away with your money. Remember to do your homework before you decide on whom you should get your currency exchanged from
Exchange Rates at Brantford Banks:
Banks are the most used currency exchange service. This is because these establishments have a higher trust factor. However, what most people fail to identify at first are the hidden charges these banks incorporate into their currency exchange fees. Banks have their own policy towards exchange rates which is why it is highly recommended that if you're seeking the best rates against your US Dollars, you use a service outside of your bank.
Brokers Offering Currency Exchange Services in Brantford:
Since most of the private exchange services in Brantford have a physical location, they need to take care of overhead expenses such as rent. CanAm, being a virtual service, has the ability to offer you the best currency exchange rates across Brantford. Maintaining a virtual presence allows us to enjoy the benefit of not having to take care of any overheads attached to our operations. This allows us to maintain competitive currency exchange rates to offer you the best return against your US Dollars. All you need to do is book a quote, make a virtual transfer and have the funds delivered in whatever way suits you best. 
Brantford's Best Currency Exchange Services
CanAm takes pride in being the only service that offers you the best currency exchange rates against your US Dollars or any other currency. We will save you a lot of money versus having your currency exchange through a bank or an independent broker. You can call your bank and get a quote, and have it compared against the quote that we offer you for you to see the difference yourself. We ensure that you will be amazed by the rates that we have to offer, and the speed in which we complete our transactions.
Get Your FREE No Obligation Quote Today